SAMULI SCHIELKE, Migrant Dreams: Egyptian Workers in the Gulf States (Cairo: The American University in Cairo Press, 2020)
Gerasimos Tsourapas

University of Glasgow
References
Amin, Galal A. "Migration, Inflation and Social Mobility: A Sociological Interpretation of Egypt's Current Economic and Political Crisis." In Egypt under Mubarak, edited by Charles Tripp and Edward Roger Owen, 103–21. London: Routledge, 1989.
Feiler, Gil. Economic Relations between Egypt and the Gulf Oil States, 1967–2000: Petro-Wealth and Patterns of Influence. Brighton, UK: Sussex Academic Press, 2003.
Gardner, Andrew M. City of Strangers: Gulf Migration and the Indian Community in Bahrain. Ithaca, NY: ILR Press, 2010. https://doi.org/10.26530/OAPEN_627411.
Gruntz, Lucile and Delphine Pagès-El Karoui. "Migration and Family Change in Egypt: A Comparative Approach to Social Remittances." Migration Letters 10, no. 1 (2013): 71–79. https://doi.org/10.33182/ml.v10i1.112.
Ibrahim, Saad Eddin. The New Arab Social Order: A Study of the Social Impact of Oil Wealth. Westview's Special Studies on the Middle East. Boulder, CO: Westview, 1982.
Schielke, Samuli. Migrant Dreams: Egyptian Workers in the Gulf States. Cairo: The American University in Cairo Press, 2020.
Tsourapas, Gerasimos. The Politics of Migration in Modern Egypt: Strategies for Regime Survival in Autocracies. Cambridge: Cambridge University Press, 2019. https://doi.org/10.1017/9781108630313.
Vora, Neha. Impossible Citizens: Dubai's Indian Diaspora. Durham, NC: Duke University Press, 2013. https://doi.org/10.1215/9780822397533.
Winckler, Onn. Arab Political Demography: Population Growth, Labor Migration and Natalist Policies, 2nd ed. Brighton, UK: Sussex Academic Press, 2009.
Zohry, Ayman and Barbara Harrell-Bond. "Contemporary Egyptian Migration: An Overview of Voluntary and Forced Migration." Working Paper C3. Development Research Centre on Migration, Globalisation and Poverty. University of Sussex, December 2003.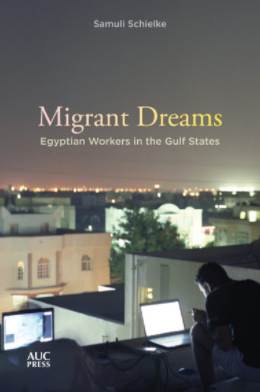 This work is licensed under a Creative Commons Attribution-NonCommercial-NoDerivatives 4.0 International License.